So, starting a thread for this brilliant little hockey game which, despite still being in beta, makes EA look completely incompetent when it comes to making
hockey
games. 
The interface and everything about this game is very familiar for us FM players;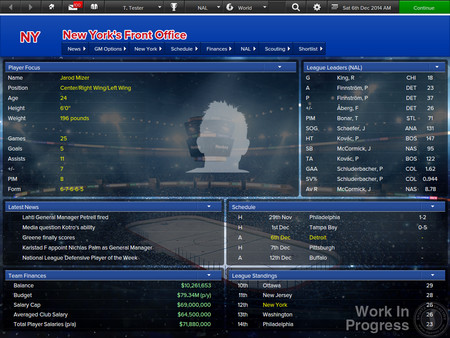 It's a bit overwhelming at first, especially if you're not all that familiar with hockey in general, but the good thing is that you can be just the GM, meaning you hire a head coach to take care of training, tactics and playing the games for you, which is what a GM should do in my opinion. What's left for you to focus on is making sure the head coach has the best squad available at all times; that means scouting and drafting, signing free agents and making trades. You also have to control the finances (even though that's not a big feature), make sure you have the right personnel and so on. It's what you would've done if you were the sports director instead of manager in FM. 
Being just the GM is a ton of fun (actually having the opportunity to fire the head coach!) and the seasons go by at a nice pace since you don't have to watch and play 70-100 games a season. It also means you can blame the head coach when things go wrong
I'm currently about to start my 3rd season with the world famous Sarnia Sting in the Ontario Hockey League (a Canadian junior league). This being a junior league, I draft 15-16 year olds, have a window between 16-20 years of age where they can actually play for my team (age restrictions) before they're either too old or have been drafted by NHL teams. It's quite the challenge to put together a team that can fight for the trophy when you have such a small window of opportunity. A lot of planning is required, great scouts and good drafting coupled with some smart trades. I'm looking forward to seeing someone I drafted as a 15-16 year old being drafted by an NHL team, so that's appealing to me as well 
So far we've made the playoffs both years, although in our league only the bottom two are left out. In season 2 we made it all the way to the western finals where we lost in overtime in game 7  
  and missed out on the conference final (which decides who wins the OHL trophy). But that said, we had the highest win percentage of all Canadian junior teams (all 60 of them) that season so we had a good year. 
You don't have to be an expert to play this game as you can hand over all the tactical stuff to your coaching staff. If you like the sound of just being the GM and building the team, the game is cheap and constantly improved on, even though there's not much left to fix. It's what EA would call a masterpiece. Well worth the money